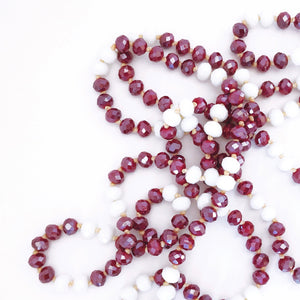 This unique necklace is a patterned design that you won't find anywhere else! Have a team that you root for? Alma mater colors? Or maybe you're just like us and are a big fan of warm reds!
D E T A I L S -
- 60" layering necklace
- Crafted in Texas with hand knotted bead strands
- Color = Hues that closely match maroon & burgundy! At first glance it looks like maroon, but once this beauty hits sunshine you will see burgundy.